< back
Barbican 'The World Beneath Our Feet'
London, May 2022
Our Services
Production
Concept Development
Data Sourcing & Analysis
Design
Deployment
01. The Challenge - Transforming the conversation surrounding the climate emergency
Recognising the need to transform the conversation surrounding sustainability and the climate emergency, In collaboration with environmental and political writer and activist George Monbiot, award-winning London-based creative innovation studio,  Holition has created an immersive installation at The Barbican Centre's Our Time on Earth Exhibition in May 2022. 
barbican cover
babican otoe 12 small
02. The Solution - A journey through art, science, and technology
Our Time on Earth, a major exhibition celebrating the power of global creativity to transform the conversation around the climate emergency, presents 18 works, including 12 new commissions, from 12 countries around the world to create a series of innovative new collaborations.
Bringing together academics, architects, artists, activists, designers, ecologists, engineers, environmental campaigners, researchers, scientists, technologists and writers, the exhibition highlights the need to work in collaboration across disciplines to tackle climate change together.
The exhibition features three interconnected sections – Belong, Imagine and Engage, designed to create a shift in consciousness, changing the way we think about the natural world.
barbican otoe powwow
Drawing on research from George Monbiot's forthcoming book Regenesis: Feeding the World Without Devouring the Planet, Holition's immersive exhibition within the IMAGINE section, The World Beneath Our Feet takes individuals through an immersive journey that highlights the interconnectivity of the nutrients, organisms and plants that live in our soil, underpinning their relevance in keeping our world alive.
barbican otoe 02 1
barbican otoe 04 4
barbican otoe
barbican otoe
0.3 Insight - An exploration into the world beneath our feet
Harnessing creative data visualisation technologies, the immersive experience highlights the fascinating, yet complex systems found in soil, which serves as a bedrock for biodiversity and human life.
Our Time on Earth is open for public viewing at the Barbican Centre from 5 May - 29 August 2022 at the Barbican Centre before continuing its international tour.
Barbican – OTOE – The World Beneath Our Feet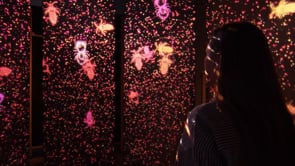 'Our Time on Earth aims to seduce the visitor into another way of seeing – another way of being. They invite us to listen, to feel, to really see, what it could be like to live and thrive in an alternative and positive future'.
Kate Franklin and Caroline Till, Guest Curators
logos