< back
Clinique Laboratories
360 Virtual Space, 2021
Our Services
Production
Concept Development
UX Strategy
UI Design 
CGI Design & Creative Content
Build & Deployment
01. Challenge - Reimagining the science behind skincare
To launch their latest innovation in skincare-driven makeup, global beauty brand Clinique collaborated with award-winning London-based creative innovation studio, Holition to launch an e-commerce first programme to introduce its all-new Even Better Serum Clinical Foundation (EBCF), the first foundation powered by three serums technologies, through a digital format that would transcend the limitations imposed by COVID-19.
clinique lab
sketch up 2
sketch up 1
02. Solution - The Clinique Beauty Lab, Made Even Better™
Multiple hotspots, one platform - all combined to create Clinique Laboratories: a virtual space that offers an interconnected, yet individualised experiential trip inside Clinique's brand universe. The virtual space was designed to highlight the three power serum technologies found in Clinique's Even Better Serum Clinical Foundation.
virtual assistant low
Within the experience, users can virtually interact with multiple hotspots in full 360, created entirely through computer-generated graphics. Through a combination of tech-driven and human-led experiences, the Lab acts as an extension of the physical space, with functionalities that offer a seamless brand touchpoint that can be accessed anytime, across devices, anywhere.
Each room within the virtual space triggers various edutainment content alongside technologies such as augmented reality, AI, diagnostics, live chat and tutorial sessions to showcase Clinique's legacy and scientific expertise, using sensorial and artistic cues to deliver an immersive and engaging brand experience:
1. Learn about the science behind the newest innovation in skincare-driven makeup,  through Clinique expert videos.
2. Discover their perfect shade through virtual Skin School consultations and augmented reality with Clinique Clinical Reality™ and Foundation Finder, powered by Clinique's Shade-Match Science.
3. Explore the possibilities of their newest high-performance, skin-perfecting foundation through one-on-one live make-up tutorial sessions with Clinique Consultants.
expert video low
tone match low
03. Insight - The Clinique Metaverse, a world-first in the realm of virtual beauty spaces
A true trailblazer in the realm of personalised experiences, Clinique Laboratories is an immersion into an entirely new touchpoint, inviting consumers to discover, learn, and shop Clinique's iconic beauty and skincare products, unlike any other brand in the world, with functionalities that offer a seamless experience that is intuitive, informative, and immersive.
As an extension of the physical retail experience, Clinique Laboratories offers a highly-engaging touchpoint that celebrates the natural human desire to discover, learn, and explore while giving consumers the ability to learn about Clinique's new foundation in an experiential virtual environment.
Clinique.mp4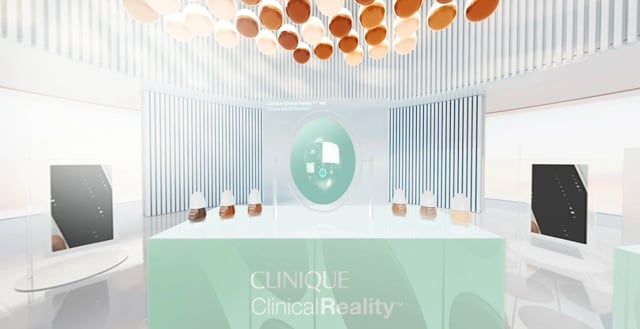 This is not just skincare reimagined - it's RETAIL reimagined.