< back
Tommy Hilfiger FA22: Tommy Factory 3D Anamorphic Display
London, September 2022
Our Services
Production
Concept Development
Creative Direction
Design
Technical Build & Deployment
01. The Challenge - Bringing Tommy Factory FA22 to a global audience
Tommy Hilfiger returns to New York Fashion Week for the first time in three years with an experiential runway event that sought to immerse audiences physically and digitally into a refreshed brand world. To bring the vision for Tommy Factory FA22 to a global audience, multi-award-winning London-based creative innovation studio, Holition was commissioned to create a 3D anamorphic billboard that brings together the physical and digital elements of Tommy Factory FA22.
th_anamorphic
02. The Solution - Capturing the creativity and reinvention of Tommy Hilfiger in 3D
What does co-creation look like in an all-digital world? What if gravity did not exist? What if you didn't need brushes to paint? What if you could teleport next to your musical hero? If Andy Warhol's factory existed today, what would people create?
Taking Inspiration from Andy Warhol's factory and the overall creative vision for Tommy Hilfiger's Tommy Factory FA22,  Holition created a world-first 3D Anamorphic Display at the Heart of Central London, in collaboration with Inertia Studios.
Displayed in Picadilly Circus throughout the duration of New York Fashion Week, the 3D Anamorphic Display captures a story of co-creation and collaboration in a hybrid metaverse, seamlessly blending digital touchpoints with our physical reality.
anamoprhic th 02
Blending the physical and virtual worlds of Tommy Factory FA22, the 3D Anamorphic Billboard sequence is made up of multiple scenes, each one focussed around a different energy and art form with a distinctive fashion twist.
From Andy Warhol's shimmering silver cloud balloons over Manhattan's skyline to the chaos of rock and roll, distinctly represented through an all-digital Travis Barker, and freeform painting. The billboard represents the history, creativity and reinvention of Tommy Hilfiger.
Tommy Hilfiger 3D Billboard (Night)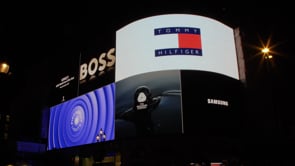 travisbarker3d
travisbarker3d_behind
03. Insight - A world-first activation that shares a narrative with a physical runway show.
As the first of its kind, Tommy Hilfiger's hybrid metaverse does not abide by the traditional laws of physics. Instead, it removes the boundaries of real life to immerse fans inside the brand's storyworld through a combination of both extruding and intruding three-dimensional scenes for mind-bending anamorphic effects. The 3D Anamorphic Display, digitally-designed and developed in full CGI by Holition's Creative Technologists, pushes the boundaries between what digital fashion could look like in real life to bring the creative energy of Tommy Factory FA22 to a global audience.
tommy nigthshot
media publications