< back
Christian Louboutin | Loubi-Mirror
London, 2020 & 2022
Our Services
UX
Production
Concept Development
Design
Technical
Build & Deployment
01. The Challenge -  Immersing In-Store Shoppers through Technology
Leading beauty retailer, PUIG, approached Holition to develop augmented reality-enabled in-store magic mirrors for Christian Louboutin's stores globally.
cl image
ezgif com video to gif 4
02. Solution - Loubi Mirror
To address common pain points within the in-store retail experience such as choice paralysis, try-before-you-buy, and hygienic concerns, Holition created Loubi Mirror - an in-store virtual try-on experience designed to elevate the traditional beauty shopper's journey on site.
The experience brings Christian Louboutin's trademark aesthetic through an in-store magic mirror that accurately captures the brand's highly-pigmented lipsticks and lustrous cosmetic products.
Built on Holition's FACE™ technology, our virtual try-on and diagnostics tool tracks over 100 points of the face, designed to create hyper-realistic beauty looks. With superior facial tracking and beautiful product visualisations, its virtual try-on functionality far exceeds other try-on experiences by providing users with personalised product recommendations designed to match the user's individual facial features.
Christian Louboutin | Loubi Mirror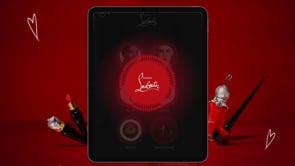 cl
03. Insight - Your Signature Loubi Look
Christian Louboutin's Loubi Mirror experience designed by Holition was another step towards reimagining consumers' in-store product discovery journey.
Inspired by Christian Louboutin's high glamour aesthetic, the experience captures the spirit of the brand through hyper-realistic visualisations that enchant in-store visitors, encouraging them to discover the brand's beauty collection by creating their signature Loubi look.
"Discover your Loubi Looks."