< back
Faces | Store of the Future
Dubai | 2019
Our Services
Production
Insight Innovation
UX
Concept Development
Design
Technical
R&D
Deployment
Support
01. Challenge - Addressing Every User Need
To revamp their latest flagships in Dubai's Mall of the Emirates, renowned beauty retailer Faces enlisted Holition to create a next generation space that helps every customer find what they're looking for. Working with natural consumer choreography in a retail context, Holition and Faces created both a hotspot for beauty fanatics and a safe space for guidance-seeking shoppers in search of gift ideas.
WojoohFull6
Wojooh | Fragrance Bar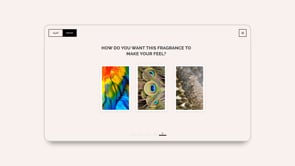 wojooh5
wojoohHalf9
02. Solution - Creating a Digital Playground

A 'digital playground' of sorts, the stores house four types of installations:
1) Fragrance Bar: A personalised tool to help customers discover which fragrance is right for them or to help them find a gift for someone special. The Fragrance Bar helps match customers to their desired perfume using unique algorithms and product tagging based on emotion and behaviour, developed by Holition and esteemed perfumer, Michael Edwards of Fragrances of the World. Differing in approach from existing fragrance finders that typically work in reverse, promoting fragrances based on brand values or binary values defined by brands, (resulting in inaccurate suggestions) Faces' Fragrance Bar algorithm matches products to users' individual emotions and needs, yielding not only accurate but hyper-personalised results.
2) Test Bar: A phygital 'test and play' approach to a connected shelf, empowering customers to creatively learn about ingredients, customer reviews and packaging information for products they interact with. Using Digitact's RFID technology and Holition's UX and design application, Faces' new Test Bar is a revolutionary concept where customers can gain online research about a product by physically interacting with it. This interaction replaces hours of sifting through reviews, commerce sites, blogs and speaking to sales associates to find out frequently asked information all in one simple experience.
3) Gift Wizard: An interactive display that uses personality diagnostics to help users find the right gift for a specific occasion. To create the ultimate gifting machine, Holition profiled user groups in great detail to match behaviours to products or gift sets from Faces. Unlike other gift finders, Faces' Gift Wizard works with users to find the feeling of the present they'd like to gift, as opposed to simply filtering through products based on binary criteria.
4) Magic Mirror: The easiest way to 'try before you buy', Faces' Magic Mirror, powered by FACE by Holition™ (Holition's hyper-realistic augmented reality software) is an experiential trip into the world of virtual cosmetics, allowing users to try on digital makeup looks, take a selfie and share it and obtain essential product information through an Instagrammable format.
Woojoh2
WojoohMirror
Marking a new era of retail experience,
Faces' new store launch empowers customers to shop, discover and play through a symphony of technologies. 
wojoohFull2
woojohHalf4
testbargif
rule line
holition beautybyholition logo